If the board of directors at GoDaddy inc. (Domain and Hosting Company) are planning to lay off someone, it's surely got to be the CEO, Bob Parsons. Why?
He smartly killed an elephant and shot a video. Posted it online for the world to see. What's even worse is that he appears quite happy and poses over the dead elephant, victoriously. He's even included the part where the africans rip apart the flesh of the elephant and a stampede for it. This is ridiculous and disgusting, especially for me the fact being that I am a pure vegetarian.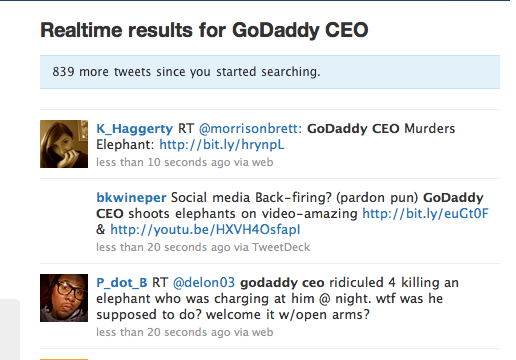 Twitter is lashing out on the poor CEO and leaving no opportunity to make up for his mistake. I guess, he actually deserves it.
What PETA (People for Ethical Treatment of Animals) says,
I am writing to present you with PETA's first-ever scummiest CEO of the year award (your certificate is on the way). You deserve the award for your egregious disregard for the life of the elephant you shot and killed for your personal enjoyment. Such behavior only shows a poverty of understanding and a deep insecurity, perhaps in your own masculinity. Nonlethal methods are available to protect crops from elephants left hungry because of their disappearing habitat.
What Bob Parsons replies in defence,
I stand by my decision to help African villagers. I believe elephant management is beneficial. I have the support of the people who really matter in this situation, the families of Zimbabwe — people who need help to survive. I have the support of tribal leaders and the government.
Do you think this was justified? Share it with us in the comments below.
Video After Break. [Read more on this here]