The HTC One (M8) launched to rave reviews in the UK last month, as the beleaguered manufacturer made one belated attempt to compete with smartphone market leaders Apple and Samsung. It has been reported that the initial sales figures of this handset have been modest, however, thanks primarily to a lack of marketing direction and a confused brand message.
While the sales of the HTC One (M8) do not reflect the phones underlying quality, such an issue is unlikely to trouble the long awaited iPhone 6. Due for release in September, it is set to dominate the smartphone market and even steal a march on similarly coveted handsets such as the Samsung Galaxy S5 and the Sony Xperia Z2.
What we know: Initial Details of the iPhone 6
Placing this speculation to one side, it is worth considering exactly what we know about the soon to be released iPhone 6. Initial reports suggest that it will have a far bigger screen than either the iPhone 5 or the iPhone 5S, and although the precise size has yet to be revealed the majority of experts believe that it will comfortably match the HTC's 5 inch display. Apple's highly anticipated WWDC developer conference (which is scheduled to start on June 2nd) should shed further light on this, while also revealing other aspects of the handsets specification.
The larger screen size will also increase resolution, for example, which will deliver far higher definition and improved graphics to users. This will be well received by consumers who like to view a diverse range of media through the smartphone, whether they choose to stream movies or access mobile and online casinos like Euro Palace. There has also been the suggestion that Apple's latest handset will feature thinner hardware, which in turn will lend itself to a sleeker and slim line aesthetic design.
In terms of performance, the iPhone 6 is also expected to be released alongside a newly updated operating system. This will be the iOS 8, and it will feature a number of updates that should increase processing speeds and allow for faster download times. Apple are also expected to launch a brand new fitness focused application to celebrate the launch of the handset, and the tentatively titled 'Healthbook' is already drawing considerable attention through online forums and websites.
Further Details and Speculation
On a final note, KGI's analyst Ming-Chi Kuo has raised a potential anomaly with regards to the size of the iPhone 6 and its display. More specifically, he has suggested that Apple will release two unique devices, one during September as initially scheduled and another at some point during the fourth financial quarter.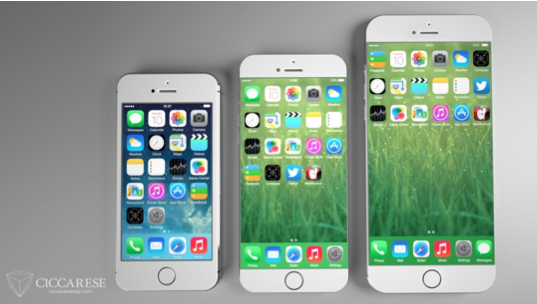 Ming-Chi Kuo suggests that while the former will feature a relatively small 4.7 inch screen, the latter will boast a display that measures 5.5 inches. This opinion is at odds with the suggestion that Apple have struggled to locate adequate batteries to power a potentially larger device, however, so the brand may well content themselves with the release of a single, block busting product.
While we will not know the true specification of the iPhone 6 until the summer, its potential design is at least beginning to take shape. This should be enough for now, especially as there remain a host of alternative handsets on the market that are creating a significant international impact.