The Blogosphere is hot with Rumors Buzzing in from all corners. All top blogs like TechCrunch, Mashable and Engadget are blogging about this. And now it's Financial Time's Which has added on to the rumors!
According to Financial Times Apple seems to be in a deal with Four largest record labels which aim to increase Digital Album sales and Apple aim's to increase iTunes sales. And to achieve this Apple is supposed to be launching a new Tablet. The Tablet is supposed to more like a iPod touch than a iPhone.
Phone features may-be available. The screen size would be around 10 inch with touch features and it is supposed to be shipping around Christmas Festival. It is supposed to be more like a iPod touch with Wireless features same as iPod touch, downloading via iTunes.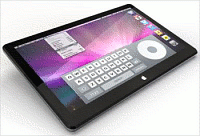 Companies like EMI, Sony Music, Warner Music have signed up with Apple to bang up the Digital Music Market. Apple seems to have stepping in a market where most of the Companies have failed including Microsoft and this project has been named "CockTail". Sounds funny, but yes that may be the name!
Apple has revolutionized the way we share and listen to music with it's products, iPod and iTunes. This may be the next hit. Many Experts say that Apple's Tablet may be the perfect killer for Amazon's Kindle.
What makes me wonder if that these rumors aren't true then will it actually inspire Apple to make something like this? Seems so!
Thanks Mashable and Financial Times.