Piper Jaffray senior analyst Gene Munster just released a reports to his clients regarding the Apple's Much Rumored Netbook. It had some calculations along with some Representations of what the actual device would be. He Said
Last week we spoke with an Asian component supplier that has received orders from Apple for a touch-screen device to be fulfilled by late [calendar year] 09," he writes. "This data point underscores our thesis that a tablet will likely launch in early [2010].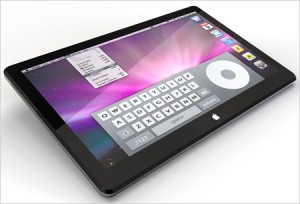 It seems like the Rumor might be true, but we can't say with 100% confidence, but whatever it may be i am excited. Anyways the features which might be there are –
Applications meant for iPhone will work on it + some new apps for the tablet.
It will be used for Internet Surfing, Digital Media and serve uses just like what iPhone did.
It may include a Cellular 3g modem.
Pricing might be between $500-$600
If Apple is able to sell 2 Million units for $600 each, it will easily generate $1.2 Billion which is a huge amount.
Thanks CNN.