Lot's of rivalry going on between the two major companies, Google and Microsoft. First Google's Chrome OS and the Microsoft's Office 2010 which decides to challenge Google Docs. 
Now Google won't sit silent. Google has decided to launch it's Viral campaign Going Google to increase customers for Google Apps. 
In order to kick off the Campaign Google is going to place Bill Boards at 101 in San Francisco, the West Side Hwy in New York, the Ike in Chicago, and Mass Pike in Boston. 
And Google isn't going to waste all the stuff going on to make those billboards. Instead it will recycle to make Computer Bags and Carry Bags, so that's Eco-Friendly! This Campaign will go on for One month.
Google States that over 1.75 million users Companies, Organizations have started using Google Apps which is very less compared to that of Microsoft Office. So Google Decides to defeat Microsoft in this battle.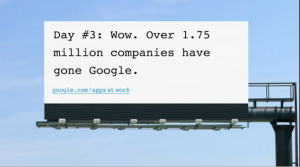 No just that Google has decided to set up a website for users to Spead the word so that users too can help Google in Popularize their products. 
Even i am a Google Apps user and i am very happy with the services they provide along with the Customer service which is way better than Microsoft Office's. Cheers Microsoft!