A Taiwanese News Website Recently Posted information which left us no Reason to believe that Apple's Tablet PC won't be out by next February. 
According to the Sources, it is confirmed that Taiwanese Manufacturers have Tapped the Supply for Computer Parts for the Most Rumored, Apple's Tablet.
Simplo Technology Co., Ltd., DynaPack International Technology Corp have been assigned the job of supplying 300,000 long lasting Battery Packs (Woo! That's a real big number!) for their Tablet Pc.
Next, Wanshih Electronic Co., Ltd. which is a supplier of PC mini coaxial cables situated in Taiwan has grabbed the offer for Apple's mini coaxial cables order (about 70%).
Apart from that, Taiwan's  Mag. Layers Scientific-Technics Co., Ltd. and Wintek Corp will supply Power Chokes and Touch Panels (Same which were supplied for iPhone's) Respectively to Apple.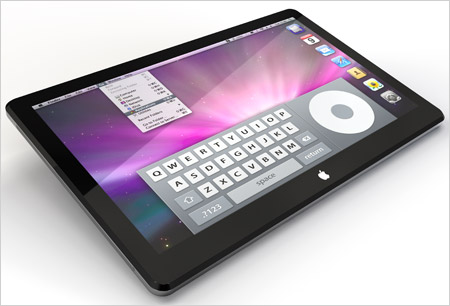 So from all this Features we can make up for the Tablet PC are –
A 9.6 Inch Screen
Multi Touch User Interface
Built-in HSPDA (high speed download packet access) module
A Long Lasting battery pack
Prices can be around $1000 Range. But, under Mass Production the prices may go a further drop as of what we assume now. Apart from that, it is also being stated that this Tablet will be coming in Hands of AT&T and not Verizon. Ha.
Now, after this if someone tells you that the Apple Tablet Rumor is fake, will you believe it?