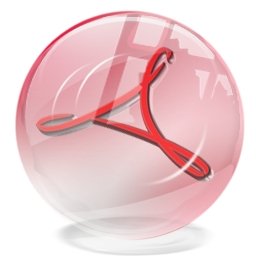 So, for the majority of us, we like to use none other than Adobe Reader for opening our .pdf files for going through the e-books, referring to the foreign University registration form or going through the inter-college band blast FAQs, naming a few. But the common problems for most of us have been the size and slow speed of the application that can be real hazards at times.
I have been adviced by friends to use 'Foxit' reader in place of Adobe, and I was surprised enough to find that software to be as compatible for opening all sorts of .pdf extensions with equal ease alike Adobe Reader. But somehow I could not compel or rather convince myself to uninstall my Adobe Reader and use the 'Foxit' one instead. I had always this feeling that maybe I will not be paying hard for my choice and trust on Adobe, and will not have to regret to neglect the 'Foxit'.
And now, I found out this application called 'Adobe Reader Lite', which Adobe has come up with after the introduction of 'Lite' versions seemingly being a trend among the Technology giants. After Nero Lite in the application software scenario and Facebook Lite in the social media scenario, Adobe came up with its Adobe Reader Lite.
This application primarily is based on Adobe Reader 8, and is said to be its 'Blaze Fast version'. The resulting fast speed is supposedly due to the removal of the several plugins that made it slow enough.
Also these given features have been checked:
1.License agreement pop-ups
2.Autorun and desktop shortcuts
3.Unnecessary plug-ins
4.Removes all auto update features and AcroRd32Info.exe with no errors in the event log
These steps can be significant enough to keep the regular users, who use to avoid hussles of loading bigger applications and waiting for it to get activated and flock to 'Foxit Reader' instead.
Get your copy of Adobe Reader Lite http://www.majorgeeks.com/Adobe_Reader_Lite_d5915.html