Seems like Googles Pagerank update is in progress (Thanks Binoy who pinged me on Gtalk with this news, showing that his blog showed a change in Google Pagerank!).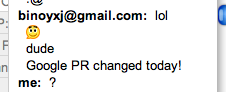 Google updates it's pagerank quite often, but according Google's Marissa Mayer google has 2 Pageranks. First one is Internal which updates on Daily Basis while the second is External, the one you see on Toolbars and pagerank checkers. But, as few sources claim mostly Internal pagerank is taken into consideration for various purposes. 
Frankly Speaking, i have had experiences when websites with pagerank 0 have got onto the first page for top ranking keywords, which prove the myth of more pagerank=more vists wrong.