If you ask me, i have always been impressed a bit by Apple, especially with Mac OS and it's interface. Well, this time to it's Well done for Apple. Sometime back there was a legal fuss about Apple's Might Mouse being registered earlier by some other company because of which apple was forced to chuck the name "Mighty Mouse".

Well, thats not the end of the story. There comes a new Mouse, called Magic Mouse form Apple. Features?
Bluetooth
MultiTouch Gesture Support
It's Just got one Button
Wireless 
It's got a Four Month Battery Life (Good!)
It's Got a hard acrylic surface on top of the mouse which is a improved from its predecessor Might Mouse, a lot.  It's Priced at  $69 and is available from today. The Scroll Wheel has also been kicked off with this version!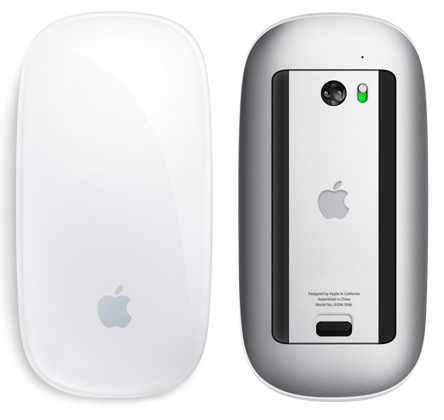 Few Problems user could face is that, those who have been using trackpad on their macbooks, the mouse is a bit different from it. Well, it uses a single finger movement to scroll down and not two, like the trackpad. Also one bad news is that, it has not got the Pinch to Zoom kind of action 🙁 We, Miss it though.  Magic  Mouse Requires you to have Mac OS X v10.5.8 (Snow Leopard).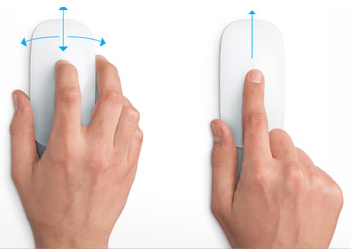 Few of the Multi-Touch Gestures include clicking anywhere on the MultiTouch Surface, and to zoom you need to hold down control key on your keyboard and move your hand in upward direction on the mouse, Two Finger Swipe to go back and front in your safari history or view photos in iPhoto.
The Press Release out there after Break.
Apple Introduces Magic Mouse-The World's First Multi-Touch Mouse 

CUPERTINO, California-October 20, 2009-
Apple® today introduced the new wireless Magic Mouse, the first mouse to use Apple's revolutionary Multi-Touch™ technology. Pioneered on iPhone®, iPod touch® and Mac® notebook trackpads, Multi-Touch allows customers to navigate using intuitive finger gestures. Instead of mechanical buttons, scroll wheels or scroll balls, the entire top of the Magic Mouse is a seamless Multi-Touch surface. Magic Mouse comes standard with the new iMac® and will be available as a Mac accessory at just $69. "Apple is the Multi-Touch leader, pioneering the use of this innovative technology in iPhone, iPod touch and Mac notebook trackpads," said Philip Schiller, Apple's senior vice president of Worldwide Product Marketing. "Apple's Multi-Touch technology allows us to offer an easy to use mouse in a simple and elegant design." Magic Mouse features a seamless touch-sensitive enclosure that allows it to be a single or multi-button mouse with advanced gesture support. Using intuitive gestures, users can easily scroll through long documents, pan across large images or swipe to move forward or backward through a collection of web pages or photos. Magic Mouse works for left or right handed users and multi-button or gesture commands can be easily configured from within System Preferences. The Magic Mouse laser tracking engine provides a smooth, consistent experience across more surfaces than a traditional optical tracking system. Magic Mouse uses Bluetooth wireless capabilities to create a clean, cable-free desk top and its secure wireless connection works from up to 10 meters away. To extend battery performance, Magic Mouse includes an advanced power management system that works with Mac OS® X to automatically switch to low power modes during periods of inactivity. The wireless Magic Mouse is powered by two AA batteries which are included. 

Pricing & Availability Magic Mouse comes standard with the new iMac and is available at the end of October through the Apple Store® (www.apple.com), at Apple's retail stores and Apple Authorized Resellers for a suggested retail price of $69 (US). 

Magic Mouse requires Mac OS X Leopard® version 10.5.8 or later. Apple ignited the personal computer revolution in the 1970s with the Apple II and reinvented the personal computer in the 1980s with the Macintosh. Today, Apple continues to lead the industry in innovation with its award-winning computers, OS X operating system and iLife and professional applications. Apple is also spearheading the digital media revolution with its iPod portable music and video players and iTunes online store, and has entered the mobile phone market with its revolutionary iPhone.