Yahoo has been set to shutting down many services or selling them off. One of them, is Yahoo GeoCities for which is payed $3.65 Billion in 1999. Well, wow! That's an amazzing amount to pay for and taking it down is not that easy, atleast not for many.
As the New Yahoo Ceo Carol Bartz's plans, they are going to do stuff like that simple so that they can concentrate on their existing services which include Messenger, Yahoo Mobile, Mail, Homepage, Search (Recent Deal with Microsoft proves that), Yahoo Music and portals like that.
Seems, like they seem to promote their Web Hosting Services, by giving a limited $4.99 deal a month for a year. Also, it is giving you a option to save your files, on your computer before October 26, after which none of these files will be available. Here's a Sign Off Letter from them reminding the shut down of the service from Yahoo!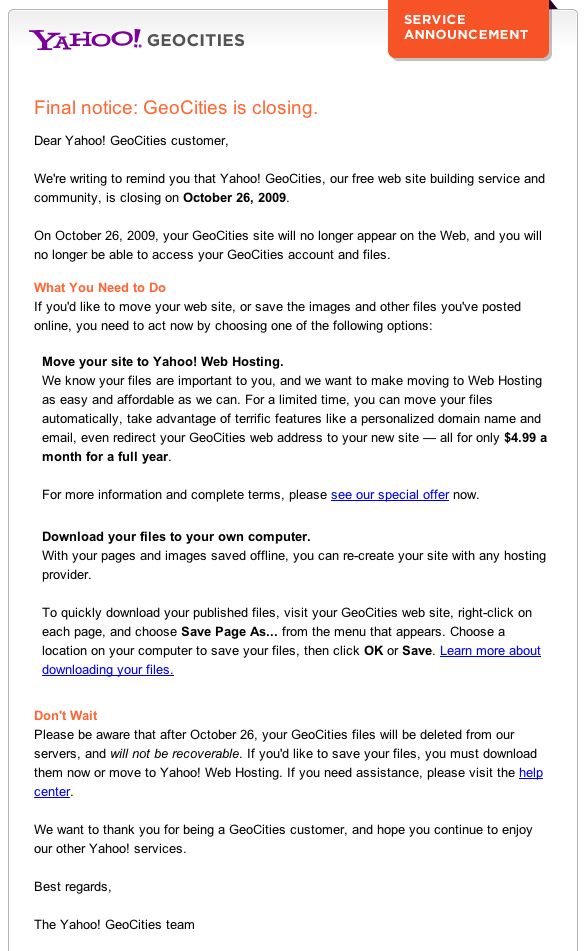 Thanks Business Insider.