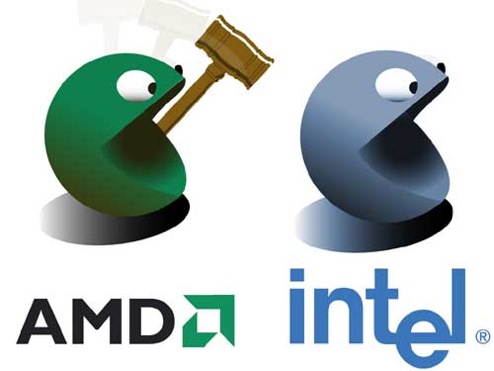 Intel Corporation and Advanced Micro Devices (NYSE: AMD) today announced a comprehensive agreement to end all outstanding legal disputes between the companies, including antitrust litigation and patent cross license disputes.
In a joint statement the two companies commented, "While the relationship between the two companies has been difficult in the past, this agreement ends the legal disputes and enables the companies to focus all of our efforts on product innovation and development."
Under terms of the agreement, AMD and Intel obtain patent rights from a new 5-year cross license agreement, Intel and AMD will give up any claims of breach from the previous license agreement, and Intel will pay AMD $1.25 billion. Intel has also agreed to abide by a set of business practice provisions. As a result, AMD will drop all pending litigation including the case in U.S. District Court in Delaware and two cases pending in Japan. AMD will also withdraw all of its regulatory complaints worldwide. The agreement will be made public in filings with the Securities and Exchange Commission.
"This is a historical settlement for the microprocessor industry. The settlement will set transparent ground rules for open, competitive markets, with which Intel, in full public view, has agreed to comply. Fair and open competition dictates that the best product wins and market forces prevail. I am very confident that this development will help us strengthen our market position." said Ramkumar Subramanian, VP, Sales & Marketing, AMD India.
So, as long as the competition keeps going, we as the customer have the freedom of choice and the market remains democratic. The day there's monopoly, the company is free to manipulate the market for its gains and innovation hits a dead end. Any company needs to realize that competition is necessary and healthy. It helps them innovate and come up with new products to one-up the competition. It also justifies the reason to pay salaries to their sales & marketing departments that help promote the brand and attack the competition.
Did you even care about the dispute? Would you now care about this settlement? Do you think it affects you – the end consumer? Share your thoughts.
Image Credit : Gizmodo.