Nokia's buzzing handset, N900 has been in the headlines for lot of time and it does have a tough reason to be there. For all Skype lovers, here is a good news. 
Nokia N900 has got Skype Integrated with it, to the core! You don't need to download ant skype application or launch any. All you got to do is login and call!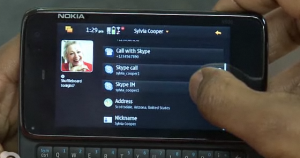 Once you are logged in, just shuffle over your contacts, make a Skype to Skype call which is completely free or Make a call abroad for damn low charges.
So what do you get out of this? 
No Hassles downloading software and installing it on you Phone
You can use it on your 3G or Wifi
You can Chat and Call your Skype Contacts
Everything is integrated so when you browse contacts you see buttons like Chat Via Skype or Call via Skype
You get to save money 
Your Mobile Service Operator gets difficult competition
Check out this video by Mark Douglas who is the Product manager of Skype Mobile who explains skype with Nokia N900!