When Nexus one came out and even before it's launch, people started claiming it as the iPhone killer. It's been the story with nearly all the phones and the most recent one was Motorola Droid.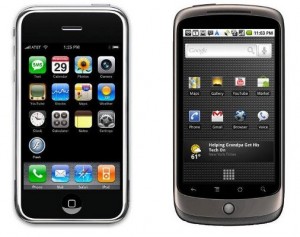 Applications
If you see Apple's iPhone has about a 100,000 applications. Yes, there's a app for everything you would ever think off. Google's android currently offers 20,000 applications.
Apple crossed 3 Billion downloads recently and 1 billion downloads were achieved in a short span of about 3 months.
Features
If we speak of the camera, Google's Nexus one has got a 5 megapixel camera while the iPhone has got a 3 Megapixel. You might be guessing that, now i can't argue on it, nexus is the winner.
Frankly, no. If you use a iPhone you surely love the camera interface and with Video recording capabilities in iPhone 3.0 you might never think of using any other phone again. Also i just wanted to clear out that a two megapixel difference does not affect the picture quality hugely, mostly it's the quality of the image sensor which i think Apple has got.
You really don't argue over the multi-touch interface iPhone has got!
Design
Simplicity is brilliant design. Apple's iPhone completely a living example of that statement. Apple's design skills have been everywhere, from it's iPods to those unibody MacBooks and iPhone's design is just too much to ignore.
No doubt, that Nexus one's design is nice but it surely isn't enough to beat the iPhone as of yet (even if you don't agree with this it's alright).
The black color on the iPhone goes very well and can suit nearly any of your clothes and styles. This is Apple's plus point too.
Pricing and availabilty
Google's phone is priced at $530 without contract and $180 with T-Mobile contract. iPhone is priced at $199 with AT&T contract and $599 for unlocked.
$20 and $50 difference doesn't make it a big winner though. Well if you know Apple has got the name and some sort of a mindset in most people's mind. If you think buying an iPhone is cool why won't you be ready to spend some money more to get the trendy stuff? Also, when your getting access to 80,000 applications more?
The iPhone is available in 77 countries while the Nexus one is present in 48 countries. Also Nexus is ignoring markets like India too where they can expect a high sale number due to huge population. Nexus one will be coming to more countries soon later this year.
Internet Experience
iPhone was the first phone to revolutionize the internet browsing experience. Being first is always a good chance and in this case it surely is. I am not saying that no one can challenge it, (infact many did, like Palm with the pre) but not many have not been successful with their attempt so chances are low.
Integrated Store
One of the biggest advantage iPhone has is the iTunes store. Movie rentals, applications, music and everything you ever want. Android compared to the iPhone store is a kid.
Apart from that, the PC and Mac integration with the iPhone is the best thing you ever wish for. One library for everything Apple (ipods, iphone, macs!) is what i love.
Marketing
Buzz. iPhone's there in the newspapers in everyday, it's on television for things which i am sure Apple didn't pay for. Geeks dream of it. Bloggers love it. Celebs also love it!
Nexus one is a new contender but if Google really wants to kick off iPhone, it surely needs a real strong marketing campaign.
Maintainence
iPhone maintenance costs are very very high but it being in the market for such a long time it doesn't take a long time to find a good service centre (either authorized, or some guy sitting in his garage).
Here's another picture of Nexus one Vs. other phone comparison. Have a look over it for some good pricing numbers too.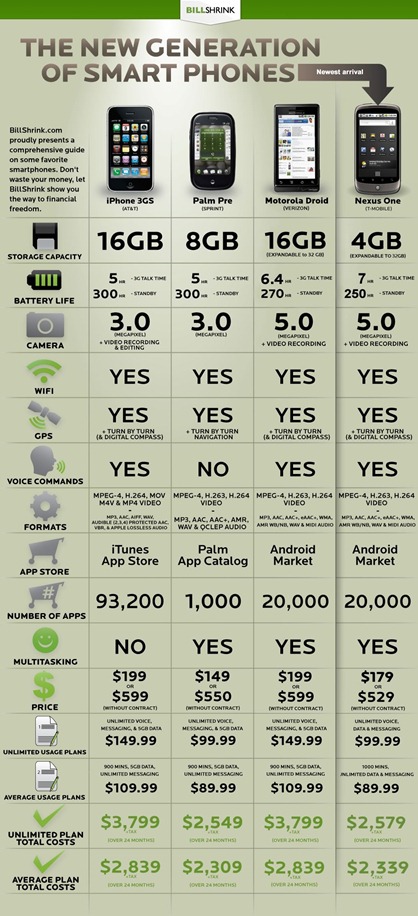 Forget everything. A new iPhone version could also be on it's way, 4G iPhone which might give iPhone a great comeback in turns of technology and till now Apple has not disappointed us and i hope so they really won't on 26th January!
Image Credit : BillShrink, TechTree. You might like to check out AppleInsider's post too.