Apple's marketing campaigns, confidential games and rumor mill publicity payed off. Apple's online store opened floodgates last nights allowing pre-orders and reservations for their iPads and what we had expected, did happen.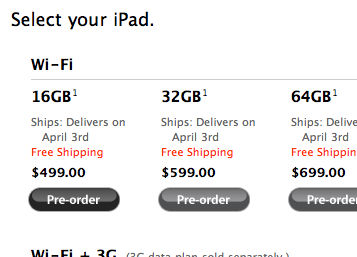 Despite people talking about the missing camera and multi-tasking, Apple sold well over 90,000 iPads in the first six hours of pre-orders which they will ship in April.
Investor Village's AAPL Sanity Board have rolled out their own sales figures based on their calculations and estimates. They claim to have found out Apple's sales figures, by putting down their order numbers on Google Spreadsheet. By 11:05 a.m. ET they had 15 confirmations with estimates as high as 74,000 products sold but we are not sure if these are just iPad sales or they start from 0 or not.
"51,000 orders in two hours," announced Victor Castroll shortly after noon. He's an analyst with Valcent Financial Group and an AAPL Sanity member who, with the blogger-analyst who calls himself deagol, has been monitoring the spreadsheet.
At 4:21 p.m E.T Victor shoots a update, "We're at about 91k in six hours". If this is true, then it's Party time for Mr. Jobs. Frankly, the not-so-remarkable product had received just too much buzz and they did successfully capture as many as consumers in so less time, if the reports are found to be true.
We still strongly believe that this isn't the success which a company would want, atleast not Apple. They would be concerned with User Satisfaction more (you can obviously say that looking at Apple's Branding techniques) and so the real reports of Pass or Fail will be coming after the iPads are shipped and people have used them.
[Via Cnn Money]