Next time when you log in to Facebook Mobile, you might get to share location. Yes, Facebook is following the lines of Twitter, that is to share location via the status updates (Remember Geotagging tweets?). The reports have been circulating for quite some time about the location features. These announcements were expected in the f8 conference, Facebook did announce some, but not the location feature.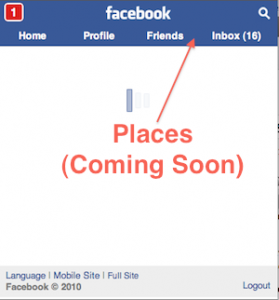 The code has been spotted Facebook's touch version for iPhone and iPod touch,  that reveals a coming "places" tab to accommodate location features. If you run around the code, you'll find a clue in the Javascript code, and stand up and say "Places" is coming! Mcdonald's has already started building a campaign around them.
The mobile version will be using the HTML5 location component to extract your location from your phone. Once done, you will be taken into a new Places area, which will have the list of venues around you to check-in. Yeah, the Foursquare way, isn't it? The code also suggests, that Facebook will not only record the latitude and longitude, but also  your altitude, heading and speed. This will give Facebook a hell lot of your information, seriously.
The Places feature could be a major threat to it's Facebook's friend, Foursqaure which offers similar type of service. One thing is for sure, once Facebook enters the location sharing arena, user acquaintance with it's new feature will be very alacritous since it beholds and army of 400+ Million Users. That means Location Sharing is here to stay and stay longer.
[Via TechCrunch]