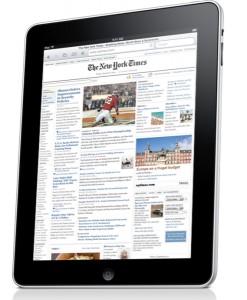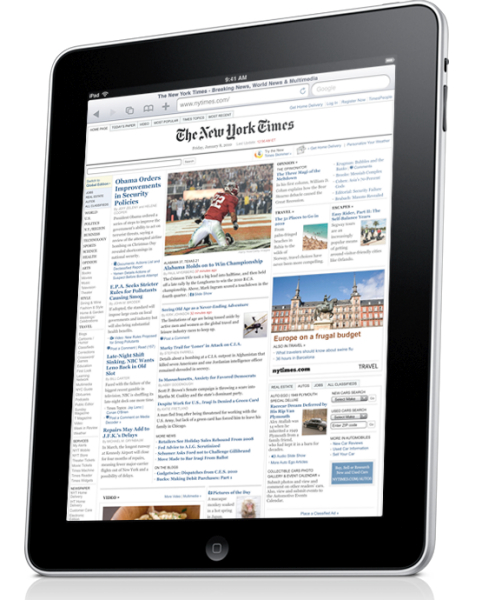 iPad is here! The blogosphere has gone crazy about it, it's there on all news channels, all top newspaper headlines. But is it actually worth it? Here's what we think about it after watching Steve's keynote and unveiling of the "magical" (Steve, here's the evil laugh – muaha) tablet. If you missed the event do check out the liveblog where we covered the event second by second!
Design
iPhone is just too awesome and i can't deny the fact. The design structure is just too good but man, a larger version of it? Literally, if we see iPad it's like a stretched version of the iPhone. Same style with black border around the screen and a home button at the centre at bottom. Volume buttons on the right (this one's unlike the iPhone). It's Exactly like the iPhone and you'll come to know why i am telling you that.
Home Screen
Same as iPhone. Apps and a dock. Springboard directly from the iPhone OS.
Operating System
It's iPhone again. All the iPhone applications (140,00+ apps) are compatible with the tablet device. It's like some sort of app simulator, really. If you run apps they will appear as a small block in the centre of the screen and no doubt you can double the size on the screen but the output quality reduces heavily especially with apps with a lot of text.
Multi-Touch
iPhone taught us what multi-touch actually is. Now Apple's just using the same technology in the iPad too.  I don't deny that i would love to use multi-touch on a 9.7 inch screen, but Apple's where the innovation gone?
Some reasons why it isn't
There are few things which differentiate iPhone and iPad too. There they go.
Applications specially for iPad
iPhone SDK (Application development kit for iPhone apps) with support for iPad applications was made available instantly at the launch of iPad. The newer SDK allows developer to make use of iPads large screen and offer newer stuff!
iBook Store
This one's a sure Amazon Kindle killer. iBook store is a app which can be downloaded from the App store for iPad which allows users to download and read ebooks from the store. Something similar to iTunes music store but this time they are selling books. User reviews and more features available at the Ebook store.
Screen Size
Obviously, those who hate playing with small screens will love this creation. iPhone has got a large screen but it's not enough for many to view pictures in one go or watch their favorite movies or Youtube in High Definition. Large Screen means more fun! Game experience will rock on this too!
iPad is our most advanced technology in a magical and revolutionary device at an unbelievable price,
The Name
iPad. It's not iPhone, ha. But we've come across so many cases where women have misunderstood the name iPad and related it to a female hygiene product. Bad Luck, Apple.
Pricing
$499 to start with a 16 GB space and a multi touch, 9.7 inch tablet device which is WiFi and Bluetooth ready is good stuff. Way to go.