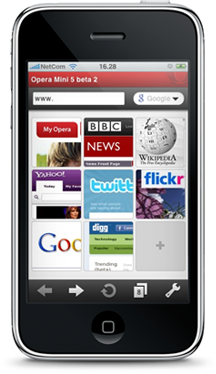 Guys, here's the break. Opera Software ASA, the company which made the browser Opera recently revealed some news that they would be submitting their Browser App for iPhone for approval to the App Store in coming weeks.
If the App ever gets approved then users would be able to experience internet six times faster than the current speed offered by iPhone's default internet browsing tool, Safari. At SXSW (South by Southwest interactive event) Opera Spokesperson, Thomas Ford gave a glance of the app which is in development to CNN.
Ford said that the App will be submitted for approval in few weeks. Now the biggest question, will Apple ever approve this App? We had a long discussion on this same issue when a rumor had just struck that Mozilla was also making a browser app for iPhone. Readers said that Apple won't ever approve such an application because the story would end with Apple getting a new competitor for it's default browser, Safari on it's device itself. We also referred to the Apple's submission guidelines which are in favor of the Cupertino Based Company and say that no app will be accepted if it duplicates iPhone's existing function.
Opera Mini was publicized, a "lot" and seriously a "lot" for a unapproved app. When asked why, the company said this would force Apple to have no choice but to submit to the will of consumers and approve the app, which seems unlikely to happen especially after the iPad launch which left millions of potential consumers unsatisfied and maybe if you remember the Google Voice App Case too!
Opera argues that Mini and Safari are different, saying Opera Mini is quicker at downloading regular Internet pages while Safari's design makes it more apt for more data-intensive functions, such as editing a Google document.

Opera's process involves running Web pages through their servers, stripping away all but the most essential data so the pages load quickly.
If Apple disapproves this App, which i think it mostly will, it will end up losing another friend and having it join the alliance of the existing enemies and to name a few, Google and Adobe 😛